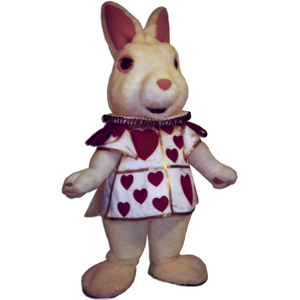 The Bunny Rabbit costume is a handmade custom mascot costume created by the skilled artists in our mascot production studios. Beautiful and larger than life, this costume showcases the craftmanship that only a true artist can master. Exquisitely detailed facial characteristics offset by the amusing queen of hearts tunic complete with ruff, have made this mascot a showstopper.
The Bunny Rabbit mascot costume was constructed using our Inflatable Costume Technologies.  Some benefits of inflatable costumes include:
The costume is lightweight.
Inflatable option allows for larger shapes and designs.
The weight of the costume rests on the wearer's hips and shoulders.
The costume packs smaller and lighter to reduce overall shipping costs.
The costume is cooler to wear, resulting in twice the time spent performing.
Our staff is available weekdays from 9am-5pm EST to help you with creating your own custom mascot costume. Find out how Costume Specialists can help you or your business with your specific mascot or costume design or any mascot and costuming service needs. Contact us … We look forward to hearing from you.