Since 1984 Costume Specialists Inc. has been creating the mascot characters that have been a part of our lives and that we all love and recognize. The award-winning Costume Specialists team is proud to bring a variety of costume characters to life, like: VeggieTales, children's book characters, the Michelin Man, M&M's characters, Kool-Aid Man, professional and university mascots, theme park characters and so many more.
At Costume Specialists we understand our employees are our most valuable asset – whether they create, design and build costumes or work in our front office, managing all aspect of production. Our employees like being part of a company that enhances the lives of others by building characters that build team spirit, business recognition and, most importantly, bring smiles and warmth to those they encounter.
As you can imagine, Costume Specialists is an amazing place where art and creativity meet opportunity.
We'd love to hear more about you! Please forward your resume to us by clicking here.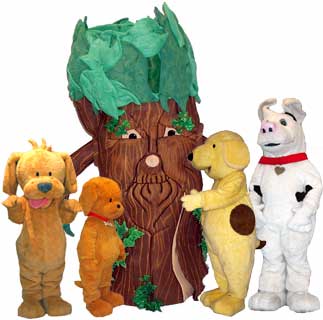 Sales Representative (Downtown, Columbus OH) FULL-TIME
POSITION OVERVIEW
The Entry Level Sales Representative position is an amazing opportunity to join a flourishing organization, grow with the role and make an impact. The role requires you to be able to balance multiple tasks simultaneously by leveraging your dynamic interpersonal skills and goal-oriented attitude to close transactions. You will focus on engaging interested customers and utilizing consultative selling skills to build trust and advance them through the sales cycle. 
The ideal candidate:
A proactive self-starter, highly independent, motivated and resourceful to reach and exceed sales goals while achieving a high level of customer satisfaction
An effective communicator with a strong phone presence and the ability to proficiently engage customers over the phone and through e-mail
Sensitive to issues of urgency and be able to take ownership in escalating customer concerns as needed
Able to thrive in a fast paced, creative, and fluid operating environment
Respond to customer inquiries via email and phone
Demonstrate product knowledge and guide customers in product selection and options
Manage established accounts and develop new accounts
POSITION REQUIREMENTS:
Full-time, M-F 9am-5pm
Ability to prioritize projects, handle multiple tasks, & manage time effectively to meet deadlines
Exhibit strong organizational skills and attention to detail
Excellent communication and interpersonal skills
A team player with a positive attitude
Creativity and Problem solving a strong plus
Some travel to customers and trade shows

 

Compensation: Base Salary plus commission
Company benefits include Health, Dental and Vision Insurance, Paid Vacation and Sick Time, 401K and Profit Sharing.
Interested parties, please connect with us here.