12 Point Cleaning Program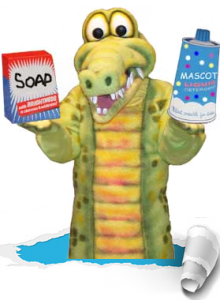 Mascots are celebrities who project the image of the Business, University, Product, or brand they represent.  Your mascot is a valuable investment and resource which represents you and your brand to the public.  When your mascot looks tired, dirty, or is in need of repair; the public views your business the same way.
At Costume Specialists we believe in professionalism and first class quality.  We also know how important your mascot is to your company and how hard your mascot works to represent you.  Our 12-Point Cleaning Program will refresh and revive your hard working mascot so that your mascot can put it's best foot (or paw) forward.  Your mascot is your celebrity to the world, so take advantage of our professional mascot services and pamper your mascot today.
Your mascot will receive customized individual, professional attention from the moment it reaches our facility.  Your mascot will be throughly inspected upon arrival.  You will be notified about any parts and/or additional repairs necessary to bring your costume up to top quality.  Our mascot professionals can replace any part of a mascot that cannot be restored to a reasonably acceptable appearance or is missing. 
Our 12-point cleaning program includes:
  1. All parts are cleaned thoroughly inside and out using our unique, special process.
  2. Feet and heads are hand-washed and disinfected.
  3. Heads are reglued and touched up as needed.
  4. Eyes are touched up and painted to bring back original luster.
  5. All parts are checked for loose stitching/buttons/snaps/zippers and resewn.
  6. All parts are disinfected with a scent-free aerosol.
  7. Fur parts are thoroughly brushed and conditioned to give them a like-new sheen.
  8. Any additional care particular to your costume is done to meet our high standards.
  9. Extraordinary repairs are done with your company approval.
10. We inspect and test any battery-powered items.
11. We inspect storage/shipping trunk for possible damage.
12. The costume is carefully packed and forwarded as instructed by your company.
Click HERE to get your custom mascot scheduled in our Mascot Spa today!