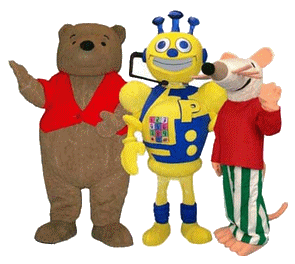 Costume Specialists creates fun, imagination, and excitement for your marketing campaign. Our custom mascot design and mascot costumes are perfect for your corporate mascot, team mascot, school mascot or college mascot needs.
Marketing Mascots and Costume Characters are a highly effective and memorable marketing tools.  Imagine your logo, mascot, or character walking up, interacting with  and be seen by your customers. The mascot represents your company with a friendly nod, a happy smile, and a warm memory. Unlike print advertisements, mascots and characters bring highly focused attention to your product. Mascots are not restricted by passive attention, but can walk up to your customer and communicate on a personal level with a commitment to your brand identity.
We can help you learn more about our custom mascot design and mascot costumes and their use in marketing. Whether you are new to mascots or a veteran at the meet-and-greet, custom mascots are valuable tool for you. Please call us to discuss your individual program needs or a quote for your custom mascot or program.
Click HERE to get your custom mascot started today!

Sign up for our newsletter.