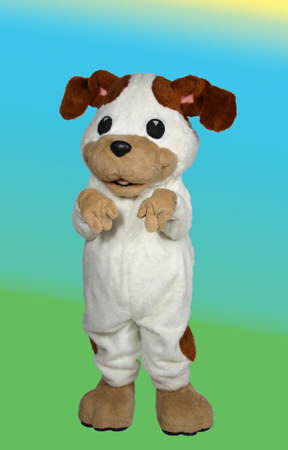 Copyright Random House
The Poky Little Puppy by Janette Sebring Lowrey and illustrated by Gustaf Tenggren has become one of the most beloved books of childhood since 1942.  The Poky Little Puppy is a delightful guest who will inspire the imaginations of your audiences.  The wearer of the Poky Little Puppy costume should be 5' 4" to 5' 8" and weigh between 120 and 160 lb
The rental fee for the Pokey Little Puppy costume has been graciously provided by the publisher Random House for promotional use only at schools, libraries, and bookstores.  The only cost to you is Second-Day Air shipping arranged by Costume Specialists to send the costume to its next event which is only $160.00.
Poky Little Puppy Wearing Instructions
Activity Kits can be found at:  Random House
Category: Animal   Construction: Foam Costume   Class: Rental
Search for us on Google: Poky Little Puppy Costume Character rental or Poky Little Puppy Character Appearance Program.