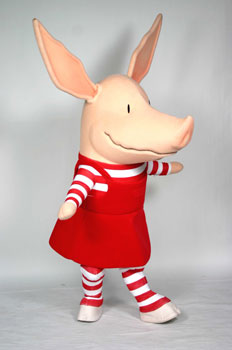 Copyright Simon & Schuster
Olivia, the star of the popular Olivia series by Ian Falconer and TV show on Nick Jr., tantalizes the imagination of children and their familes.  Bring their imagination to life with a visit from the energetic Olivia herself.  This costume pairs naturally with the Olivia Childrens Clothing Dress Up Kit.  The wearer of the Olivia costume should be 4'8" to 5'1" and be of slender build. 
The rental fee for the Olivia costume has been graciously provided by the publisher Simon & Schuster for promotional use only at schools, libraries, and bookstores.  The only cost to you is Second-Day Air shipping arranged by Costume Specialists to send the costume to its next event which is only $250.00.