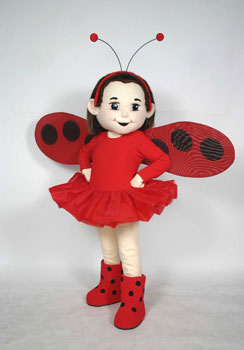 Copyright Penguin Putnam
Imagination comes to life with a personal visit from the cheerful and imaginative Lulu, a.k.a Ladybug Girl from the popular Ladybug Girl book series by husband and wife team Jacky Davis and David Soman.  The wearer of the Ladybug Girl costume should be 5′ 3" to 5' 7" and weigh between 120 and 180 lbs.
The rental fee for the Ladybug Girl costume has been graciously provided by the publisher Penguin Group USA for promotional use only at schools, libraries, bookstores, and literacy programs.  The only cost to you is Second-Day Air shipping arranged by Costume Specialists to send the costume to its next event which is only $140.00.
Activity Kits can be found at:  Penguingroup.com
Category: People   Construction: Foam Costume   Class: Rental
Search for us on Google: Ladybug Girl Costume Character rental or Ladybug Girl Character Appearance Program.