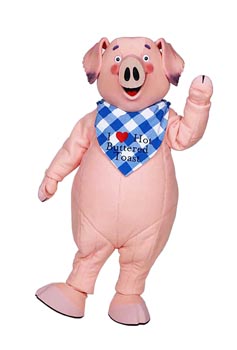 Candlewick Press
Welcome the portly and good-natured Mercy Watson from the series of books written by Kate DiCamillo and illustrated by Chris Van Dusen to your next event.  Mercy Watson will be as thrilled to visit your audience as she is to have buttered toast.  The wearer of the Mercy Watson costume should be of of average build  and 5′ 6″ to 5′ 10″ tall.
The rental fee for the Mercy Watson costume has been graciously provided by the publisher Candlewick Press for promotional use only at schools, libraries, bookstores, and literacy programs. The only cost to you is Second-Day Air shipping arranged by Costume Specialists to send the costume to its next event which is only $140.00.
Activity Kits for Mercy Watson can be found at MercyWatson.com.
Wearing instructions for Mercy Watson
Category: Animal Construction: Foam Costume Class: Rental