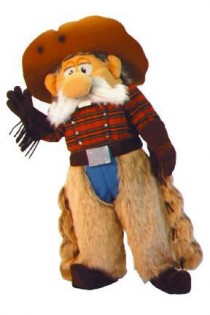 Take aim and make a bullseye when you rent the Cowboy walkabout costume!  
The Cowboy Costume is perfect for your Western Themed Event, Texas Hold'em Tournament, Charity Fund Raiser, Festival, Rodeo, Business, Children's event, Trade Show, and more.  
The Cowboy costume is available for rent to the general public, companies, and organizations.  Imagine the increased traffic, keepsake photos taken at your event, and attention the Cowboy walkabout costume will attract.   
The Cowboy Mascot Costume is constructed using our Inflatable Costume Technologies.  Some benefits of inflatable costumes include:
The costume is lightweight. 
Inflatable option allows for larger shapes and designs. 
The weight of the costume rests on the wearer's hips and shoulders. 
The costume packs smaller and lighter to reduce overall shipping costs. 
The costume is cooler to wear, resulting in twice the time spent performing. 
Our staff is available weekdays from 9am-5pm EST to help you with arranging the rental of this costume. Contact us … We look forward to hearing from you.
Category: People   Construction: Inflatable Costume   Class: Public Rental