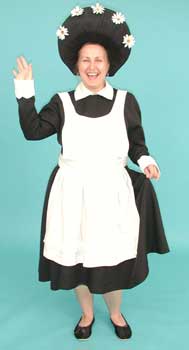 Copyright Harper Collins
"No child can resist Amelia [Bedelia] and her literal trips through the minefield of the English language—and no adult can fail to notice that she's usually right when she's wrong." — The New York Times Book Review.  The irresistible Amelia Bedelia is a literal pleasure.  The wearer of the Amelia Bedelia costume should be a dress size 10.
The rental fee for the Amelia Bedelia costume has been graciously provided by Harper Collins Publishers for promotional use only at schools, libraries, and bookstores.  The only cost to you is Second-Day Air shipping arranged by Costume Specialists to send the costume to its next event which is only $140.00.
Activity Kits may be found at:  HarperCollins.com – Amelia Bedelia
Category: Partial (wearer's face visible)  Construction: Foam Costume   Class: Rental
Search for us on Google: Amelia Bedelia Costume Character rental or Amelia Bedelia Character Appearance Program.